The Original MEATER wireless smart meat thermometer
Choosing accessories can seem confusing; but don't worry, we're here to help!

You can check out our buying guide by clicking here or talk to one of our product experts on 01628 778885 (Mon to Fri 0900 to 1700).
Don't worry... We're experts in delivery.

Accessories are dispatched with either Royal Mail or DPD ensuring they arrive with you in perfect condition. We will keep you updated all the way through the processing of your order.

Email and Text confirmation will provide precise delivery information.

If you have any questions regarding delivery, why not pick up the phone and talk to our team.
MEATER is the first truly wireless smart meat thermometer. Use in conjunction with the MEATER app, to help you cook the juiciest meat like steak, chicken, turkey, fish perfectly every time for every occasion. Simple to use the MEATER can have a positive effect on your cooking in an instant.

 100% Wire-Free: No wires. No fuss. The first truly wireless smart meat thermometer.

 Works up to 10 metres distance

 2 Sensors, 1 Probe: Dual temperature sensors can monitor internal meat temperature and ambient.

 Guided Cook System: Walks you through every step of the cooking process to guarantee perfect and consistent results.

 Advanced Estimator Algorithm: Estimates how long to cook and rest your food to help plan your meal and manage your time.

 Connectivity Suite: Monitor your cook from a phone or tablet over Bluetooth. Extend your wireless range using MEATER Link WiFi and the MEATER Cloud.




Probe Specs

-Bluetooth LE 4.0 wireless connection
-Maximum internal temperature: 100°C (meat)
-Maximum ambient temperature: 275°C (cooker)
-Stainless steel and ceramic construction
-Water resistant and easy to clean
-Dishwasher safe
-Rechargeable: Over 24 hours of continuous cooking
-Dimensions: 130mm length and 6mm diameter


Charger Specs

-Store and charge your MEATER probe
-Magnetic backing: Attach anywhere
-Charges MEATER up to 100 times with one AAA battery
-Real wood to match any kitchen or outdoor decor
-LED indicator to show battery state
-Dimensions: 157mm L x 37mm W x 28mm H


App Requirement

- iPhone and iPad apps for iOS 10.3 and later
- Android app for versions 5.0 and later
Multi-column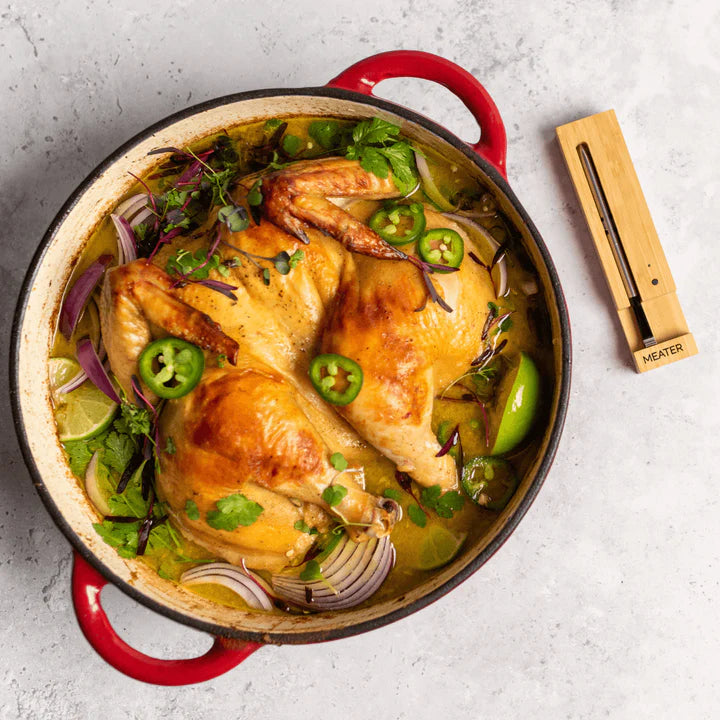 Guided Cook
Select your protein and get your cook started without the guesswork.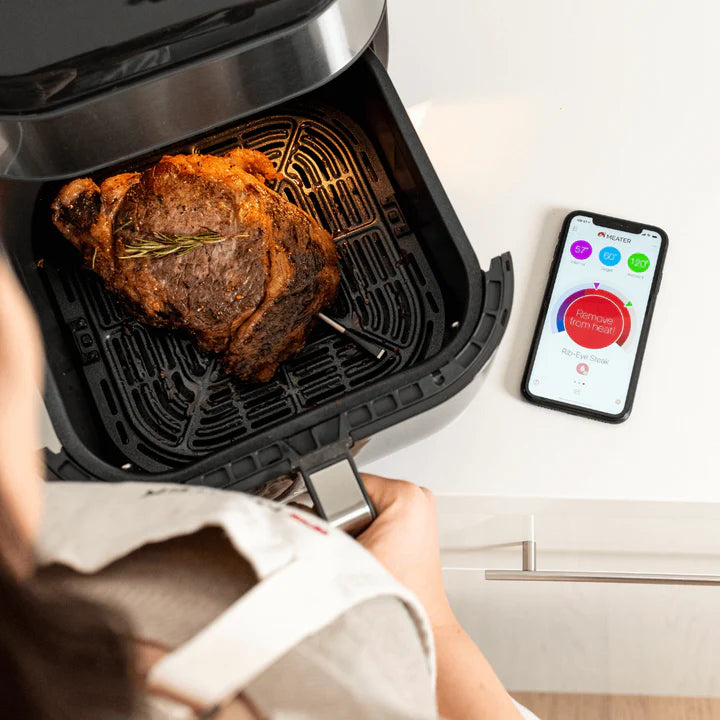 Receive Alerts
Check your cooking status and get notified anywhere your smart device has internet connection.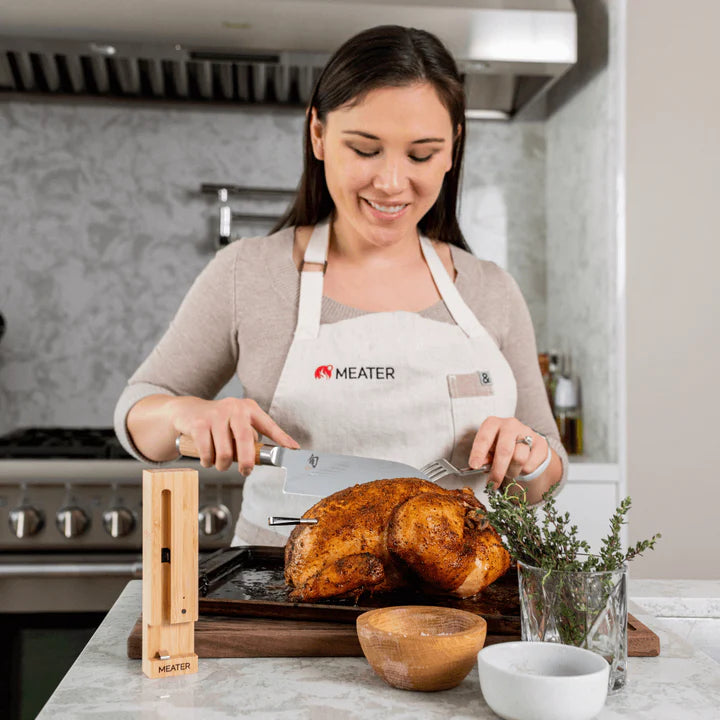 Multiple Cooks
Cook different meats at various temperatures at the same time all on your phone.
For me it's a no brainer...
Generally I'm a decent enough cook, but occasionally things don't go to plan... Not anymore. Input the type of meat and cut into the app and follow the instructions and hey presto - the meat comes out exactly as you'll like it. I'm doing a 4-rib of beef next weekend - a £80 cut of meat. I'll get it spot on with the Meater. When you're buying expensive or large joints and you know that you'll get them 'just right', it's easier to justify the price. For me it's a no brainer...
Turkey was perfect and dinner was great!! Love this device.
Used this on a turkey in the BBQ. Turkey cooked faster than expected. Because the MEATER calculates the time to cook we adjusted the BBQ temperature and prepared the rest of the fixings based on the estimate! It was the first time in my life that everything was ready exactly on time. Turkey was perfect and dinner was great!! Love this device.
Fantastic tool for meat lovers!
Fantastic tool for meat lovers! I enjoy the all process, the very well thought UI/UX and how good the hardware is. Depend on your temperature on oven, gas or charcoal BBQ the process on build up and cool down temp might change but the system allow you to adjust, and save your temperature allowing you to find the best cooking time for your set up. Super reliable and highly recommend. My only regret was not getting the set of 4, to allow cooking 4 steaks at once for family dinner…. Will look forward to get the other 3!
Outstanding device.
I've used this a couple of times now and the results are outstanding. 4* not 5* for 2 reasons. The calculating cooking time can take more than 1/2 the cooking time, which makes planning ahead for the meal relatively difficult. It does not give you any idea how lung the resting period will be. These are minor problems for an outstanding device.
Love the whole operation of it.
I love it. Best gadget I've brought in a long time great little invention. It works great. Perfect meat every time. And the app is very good easy to navigate. And most of the meat you would cook is on there temperatures are all there for you to choose your cook. Love the whole operation of it.
Trust Us, We're Experts...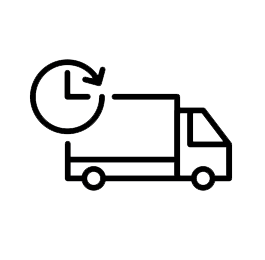 FAST, SECURE DELIVERY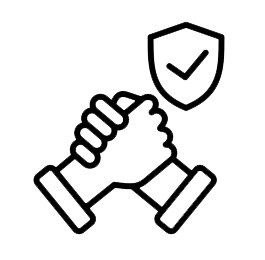 OUR CUSTOMS LOVE US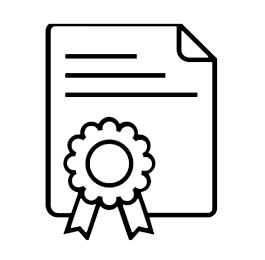 OFFICIAL UK DEALER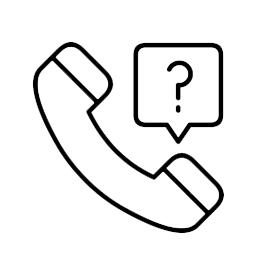 TALK TO REAL PEOPLE

OUTBACK BBQ SPECIALISTS SINCE 2012